Characteristics of OLED Displays
---
Said OLED screen, I don't think anyone knows. With the rapid development of smartphone display technology. Although it was recently announced that a mobile phone will produce more innovative QLED screens, the display principle of smartphone screens is still LCD and OLED screens. But most use OLED screens on high-end phones, while other phone manufacturers still use traditional LCD screens.
The biggest difference between the two is: LCD is through the lamp or LED backlight, and then through the LCD screen through or block the light to achieve the purpose of display. OLED screen is a kind of organic light-emitting diode. OLED screens do not require backlighting, and each pixel can emit light independently. Generally speaking, OLED screen display technology has the advantages of low power consumption and many advantages.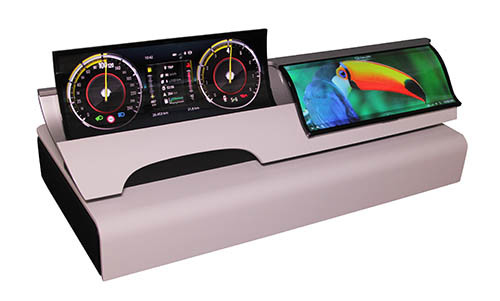 I used to use ultra Mobile phones with OLED screens are excellent in color and vision. But now only a few large companies can produce OLED screens, which is not enough and expensive. At present, in the two major technical systems of OLED screens, low-molecular OLED screen technology is mastered by Japan, the so-called OEL of polymer pledlg mobile phones is this system, and the technology and patents are mastered by British technology companies.
Compared to these two technologies, PLED products are still difficult to color. However, low-molecular organic light-emitting diodes are prone to coloring. OLED screen display technology has no backlight, using very thin and glass substrates, when there is an electric current through, under certain circumstances, these organic materials will emit light.
What's more, OLED displays can become lighter and thinner, with larger viewing angles, and can significantly save power. However, although OLED screens will replace TFT and other LCDs with better technology in the future, OLED screens still have the disadvantages of short service life and difficult to display large screens. Conclusion From the structure and characteristics of OLED screen displays, OLED screen displays are solid-state devices composed of organic molecules that can emit light after being energized.
OLED screen can make electronic devices have lower power consumption than traditional LED displays, and the response speed is fast, the brightness is high, and the color is rich. Working conditions: low energy consumption, can be used with solar cells, integrated circuits, etc., wide adaptability: the use of glass substrate can achieve large-area flat panel display, folding display can be backed by flexible materials.
Since OLED screen is a solid-state non-vacuum device, with the characteristics of seismic swing and low temperature, and also has very important applications in the military, such as the display terminal of modern weapons such as tanks and aircraft.
---