Technical Characteristics of OLED Modules
---
The technical characteristics of OLED module are: (1) The core layer thickness of OLED module devices is very thin, which can be less than 1mm, which is 1/3 of liquid crystal.
(2) OLED module devices are solid-state mechanism, no vacuum, liquid materials, good seismic performance, can adapt to huge acceleration, vibration and other harsh environments.
(3) Due to the luminescence characteristics of OLED organic light-emitting devices, it is almost not limited by the viewing angle. The viewing angle can reach 170 degrees. It has a wide viewing angle and no distortion on the sides.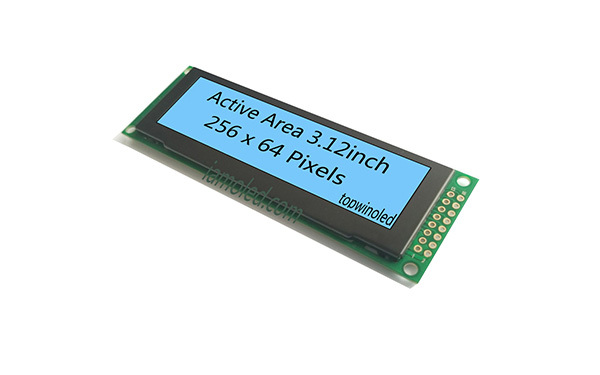 (4) The response time of OLED module display is longer than that of TFT-LCD. The response time of TFT-LCD is about tens of milliseconds, and the optimal response time is only 12 milliseconds. The response time of OLED module displays is about a few microseconds to tens of microseconds.
(5) OLED module has good low temperature characteristics and can be displayed normally at -40 °C. Currently, OLED is also used as a display for spacesuits. The response speed of TFT-LCD varies with temperature. At low temperatures, the response slows down. Therefore, TFT-LCD is not good at low temperatures.
(6) OLED modules are based on the principle of organic light-emitting and require very little material. Compared with liquid crystal, there are fewer than three OLED module processes, and the cost is greatly reduced.
(7) OLED modules use self-emitting diodes, so backlighting is not required. Compared with liquid crystals, they have higher light conversion efficiency and lower energy consumption. OLEDs can be prepared on substrates of different materials. Manufacturers can even print circuits on flexible materials to make flexible displays.
(8) Low voltage DC drive, 5V or less, battery powered. High brightness, up to 300 clear current. Introduction to OLED module: Xinyi Electronics 0.96-inch OLED module adopts high-brightness, low-power OLED display, pure display color, good visual effect in sunlight. The power supply of the module can be 3.3V or 5V, and there is no need to modify the module circuitry. It is also compatible with 4-wire SPI and IIC communication methods. Two zero-ohm resistors can be used to select the communication mode. The modules come in three colors: blue, white, yellow, and blue. The OLED panel has multiple control commands, and the OLED module can control the brightness, contrast, and switching boost circuit of the OLED. Simple operation and rich functions. At the same time, in order to facilitate the application in the product, 4 M2 fixing holes are reserved for users to fix on the chassis.
---